I was born ready to work hard.
I'm the son of an Airborne Vietnam Veteran and carpenter, and the grandson of a coal miner and former mayor of a small Colorado mining town. Brook Park is my home and where my wife and I want to build our family. I was born knowing the meaning of hard work and public service. I'm running for city council because we're better when we work together to solve problems and can build upon Brook Park's legacy as a great place to raise a family.
City Resume & Accomplishments
Personal Life
Brook Park Resident for eight years with my wife, young son, and two dogs – on our second home in the city.

Former Board Member of Two Young Professional Networking Organizations in Two Major Cities
 Past Roles
Was a member of Pittsburgh Mayor Bill Peduto's Transition Team, where I served on the Innovation and Performance Committee
Former Board Member of the Cleveland Professional 20/30 Club
Former Board Member of Pittsburgh Young Professionals
Personal Bio
A native of Toledo, I moved to Pittsburgh at 19 to attend college, and while there, I met my wife of six years, Danielle. We were married and moved to Brook Park in 2015 to start our life together where we're on our second home here, are fur-parents to two dogs, Missy and Bubba, and we welcomed our first child, Thomas Franklin, into the world on October 6th of 2020.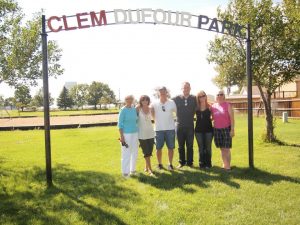 On my dad's side I'm the grandson of a coal miner, bar owner, and former Mayor of Dacono, Colorado. My grandfather is also the namesake of a town park in Dacono and is memorialized along with other area miners outside of the Miners Memorial Museum in Frederick, Colorado. On my mother's side, I'm the grandson of another small business owner and butcher. My dad was also a small business owner, a carpenter, and a veteran of the 173rd Airborne brigade Vietnam veteran.
As a professional website developer, I don't fit the mold of my blue-collar past. That being said, I tend to think of myself as a 21st-century carpenter – the modern equivalent of a chip off the old block. I've spent my years as a developer building technology solutions for small businesses and helping build technology for various startup companies across the country. I ran my own business for five years before merging my business with emBold, an Akron-based small business located in Akron's Bounce Innovation Hub, and settling into my new role as the Director of Accounts and Business Development. For my entire career, I've been a fierce advocate of small businesses and entrepreneurship and am at my best when I'm applying my skill set to help companies succeed.
Here in Brook Park, I initially got involved in local politics after the attack on Charlottesville. I wrote a resolution and lobbied city council to pass it, which resulted in Brook Park proclaiming itself a Tolerant and Diverse Community. Following that – I wrote an ordinance to create a Technology and Innovation Commission and worked with Councilman Poindexter to get it passed, to date, this commission has worked to form a partnership with Drive Ohio, is working to bring WiFi to our municipal campus, and is working on several other projects from converting city vehicles to electric cars, and looking for ways to install EV chargers at our local library. I also founded an online platform called Brook Park ARISES, which is the bones of an economic development corporation.
I'm running for city council because I'm ready to bring new ideas and energy to the table and help maintain Brook Park's legacy as a great place to raise a family.
Our Campaign is Just Getting Started

Stay in Touch!
Contact the campaign with any questions you might have regarding upcoming events, our plans for the future, or with questions on how to get involved!