I was born to work.
I'm the son of an Airborne Vietnam Veteran & carpenter, and the grandson of a coal miner, small business owner, and former mayor of a small Colorado mining town. Brook Park is my family's home and I'm ready to work my hands to the bone to see our city succeed. I was born knowing the meaning of hard work and public service and I'm running for city council because I believe we're better when we work together to solve problems and only together can we build upon Brook Park's legacy as a great place to raise a family.
City Resume & Accomplishments
Author of the Legislation that created the Brook Park Technology and Innovation Committee, featured in Municipal Magazine, and first Chairperson (Article in Municipal Magazine)
Founder of Brook Park ARISES an online presence to promote Brook Park businesses, local non-profits, and encourage residency and citizenship (https://bparises.org)
Organized Partnership with DriveOhio & The Ohio Department of Transportation to Make Brook Park a hub for the development of Smart Mobility Technology (Article from Government Technology)
Current Chair of the Brook Park Technology and Innovation Committee
Former member of the Citizen of the Year Committee and Board of Zoning Appeals
Author of Resolution Declaring Brook Park A Tolerant and Diverse City (Article in Cleveland.com) (Second Article in Cleveland.com)
Current board member of the Rocky River Watershed Council
Personal Life
Brook Park Resident for eight years and on our second home in the city – moved from Richard to Sylvia in 2019
Proud father to Thomas F. and husband to Danielle
Owner of three dogs!
Professional Website Developer and Designer
 Past Roles
Was a member of Pittsburgh Mayor Bill Peduto's Transition Team, where I served on the Innovation and Performance Committee
Former Board Member of the Cleveland Professional 20/30 Club
Former Board Member of Pittsburgh Young Professionals
Personal Bio
I was born and raised in Toledo, graduated from Whitmer High School, and moved to Pittsburgh to pursue my college education. There, I met my beloved wife, Danielle, and we have been happily married for eight years. In 2015, we relocated to Brook Park, where we first moved into our first home on Richard, then moved into our second home in Brook Park on Sylvia in 2019. Our family consists of our son, Thomas Franklin, whom we welcomed in 2020, and two adorable dogs, Missy and Bubba.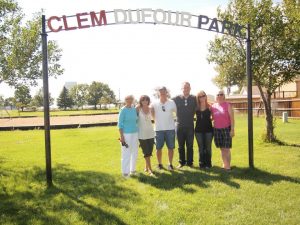 I come from a strong working-class family. My grandfather on my father's side was a coal miner, carpenter, bar owner, and former Mayor of Dacono, Colorado. He and several family members, and my father's, mine, and my son's namesake are memorialized at the Miners Memorial in Frederick, Colorado. My father, a veteran of the 173rd Airborne brigade in Vietnam, was a carpenter, a youth baseball coach, and an advisor to my high school's carpentry program.
As a professional website developer, I've helped countless startups and small businesses grow and improve their operations. As the former owner of a small website development company, I worked with startups across the country on building their technology and expanding their operations. I was also proud to work with Unique Mission Cell, part of the US Army Night Vision and Electronic Sensors Directorate, to help them collect data to support the development of emerging military technology.
Locally I've been involved in several boards, projects, and initiatives. I served on the Citizen of the Year Committee for two years and on the Board of Zoning Appeals for one year. As a resident, I wrote the legislation that created the Technology and Innovation Committee and have served on it since its inception in 2020. As a part of the committee, I'm proud to have advocated building a partnership with DriveOhio and FlyOhio, an initiative of the Ohio Department of Transportation, serving as the state's hub for smart mobility technology on the ground and in the air. Additionally, our committee has established the live streaming of events in our recreation center, advised on upgrades to existing equipment, and explored items like free WiFi in our central park, exploring potential cost savings from electric vehicles, grants for electric vehicle chargers, and more. I also founded Brook Park ARISES, an online platform to support and promote our local small businesses.
I am running for city council to help our city take advantage of our opportunities, develop new ones, keep our city moving forward, and maintain Brook Park's legacy as an excellent place to raise a family.
Ask a question / Get in Touch!
Contact the campaign with any questions you might have regarding upcoming events, our plans for the future, or with questions on how to get involved!