Let's work together to continue to mitigate this issue and protect our homes and community.
The storms of 7/20/23 were a stark reminder that while progress is being made, we have a long way to go to remediate the ongoing risk of residential flooding due to stormwater infiltration.
The City of Brook Park received almost 2.5 inches of rain in one hour, with over half of that. 1.3 inches, coming down in fifteen minutes, overwhelming our stormwater infrastructure and causing backups into basements and through foundations.
While the 7/20 storm was an outlier, and progress has been made through the administration and city council, we can go even further to address our risk of flooding by working together to update and repair our infrastructure, invest in mitigation efforts, and work to build new programs for ensuring we're doing everything we can to keep our city and our homes as dry as possible.
Infrastructure Updates & Repair
Private Property Lateral Replacement Program
Currently, two major projects are happening surrounding our infrastructure. First, Brook Park has instituted a voluntary program that allows lateral sewer pipes on flood-prone private properties to be replaced with PVC pipes at a very low cost to homeowners.
Called the Private Property Lateral Replacement Program, the Brook Park Service Department will do the repair work for $1,500. It can include pipe replacement, a test "T" (if the current one is broken), and a clean-out access point. 
For more information, call the Service Department at 216-433-7192.
Wedo Park Retention Basin Project
Second, our city is due to break ground on the Wedo Park Retention Basin Project. During heavy rainfall events, retention ponds or pools serve as additional storage facilities to reduce surface runoff, storing water so it doesn't wind up coming up from your basement. The project is set to begin in July!
Additionally, there are plans for building basins on the municipal campus along I-71 and in Middleburg Heights east of Smith Road on the bend across from the railroad tracks. Adding capacity to our stormwater grid should help alleviate stormwater backup and provide relief when massive storms inevitably roll through our area.
Maintain Cleaning Efforts
Finally, we must ensure we're keeping up with the maintenance and cleaning of our water infrastructure. This is something that the administration has prioritized and is actively doing; however, as a city council, we need to ensure that they have the resources they need to keep the ball rolling.
Continue Partnerships with Regional Entities
From the Regional Sewer District to the Cuyahoga Public Works Division, we have additional resources available for help when it comes to our sewer systems. Not to mention, neighboring cities have recently been awarded federal grants for sewer projects. Maintaining these partnerships while also keeping on top of what programs are offered and what money is available is one of my highest priorities and something I look forward to working on with the administration and the rest of council. 
Mitigation & Efforts to Keep Water Off of The Grid
In addition to the above measures, the city should continue efforts to actively remove water from our grid. Through various programs and initiatives, we can supplement our existing efforts regarding stormwater management and build additional capacity by ensuring some water never gets into our pipes in the first place.
Rainwater Harvesting (Rain Barrel Program)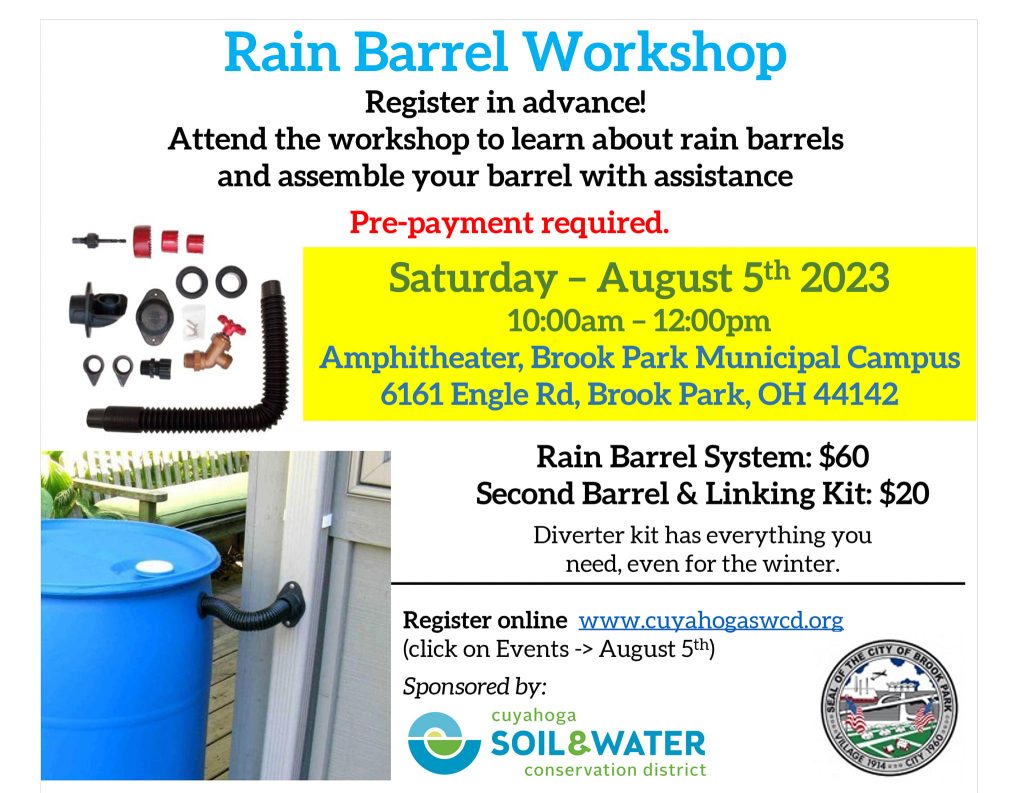 https://www.cuyahogaswcd.org/events/2023/08/05/sold-out-rain-barrel-workshop-in-brook-park
Rain barrels are a great way to save money and do your part to keep rainwater from our pipes. Brook Park has a rain barrel workshop coming up through the Soil and Water Conservation District, which is closed, but hopefully, soon, we'll have another one! As a member of the Board of Directors for the Rocky River Watershed Council, let me know if you're interested in a workshop, and with enough interest, we can hopefully get the Soil and Water Conservation District to put on another workshop!
Efforts to Improve Our Tree Canopy
Rebuilding our tree canopy has a number of benefits from traffic calming to reducing neighborhood tempuratures, but more importantly, trees are great at absorbing and diverting water from our sewers. From absorption, to delaying water from hitting the pavement, trees do more than we give them credit for when it comes to keeping storm water at bay. By continuing our efforts to plant trees, we're ensuring the next generation of Brook Park residents won't have to deal with the gallons upon gallons the trees we plant today absorb.
Examine Our Zoning and Building Codes
While things have changed a great deal since our initial infrastructure was built, we need to be aware that we are ultimately putting water onto our grid for everything green we pave over. While building codes address stormwater, we can do more to encourage existing properties to do their part to take water off our grid.
Ongoing / New Efforts
A lot of what I've discussed here are efforts already in progress. Below are some ways I believe we can improve our efforts to keep our homes safe, keep water off of the grid, and keep our city a great place to live, work, raise a family, and retire.
Provide Grants / Incentives for Flood Mitigation Upgrades to Homes
Directly through the city or through setting up a non-profit, we could provide grants to homeowners to install flood mitigation updates to properties.
More to come.

Develop Public Outreach Campaign to promote keeping sewers clear
Sewer backups can result from people dumping their trash into the sewers. Let's make an effort to keep them clear by funding a public outreach campaign to prevent dumping in sewers.
More to come.
Ask a question / Get in Touch!
Contact the campaign with any questions you might have regarding upcoming events, our plans for the future, or with questions on how to get involved!